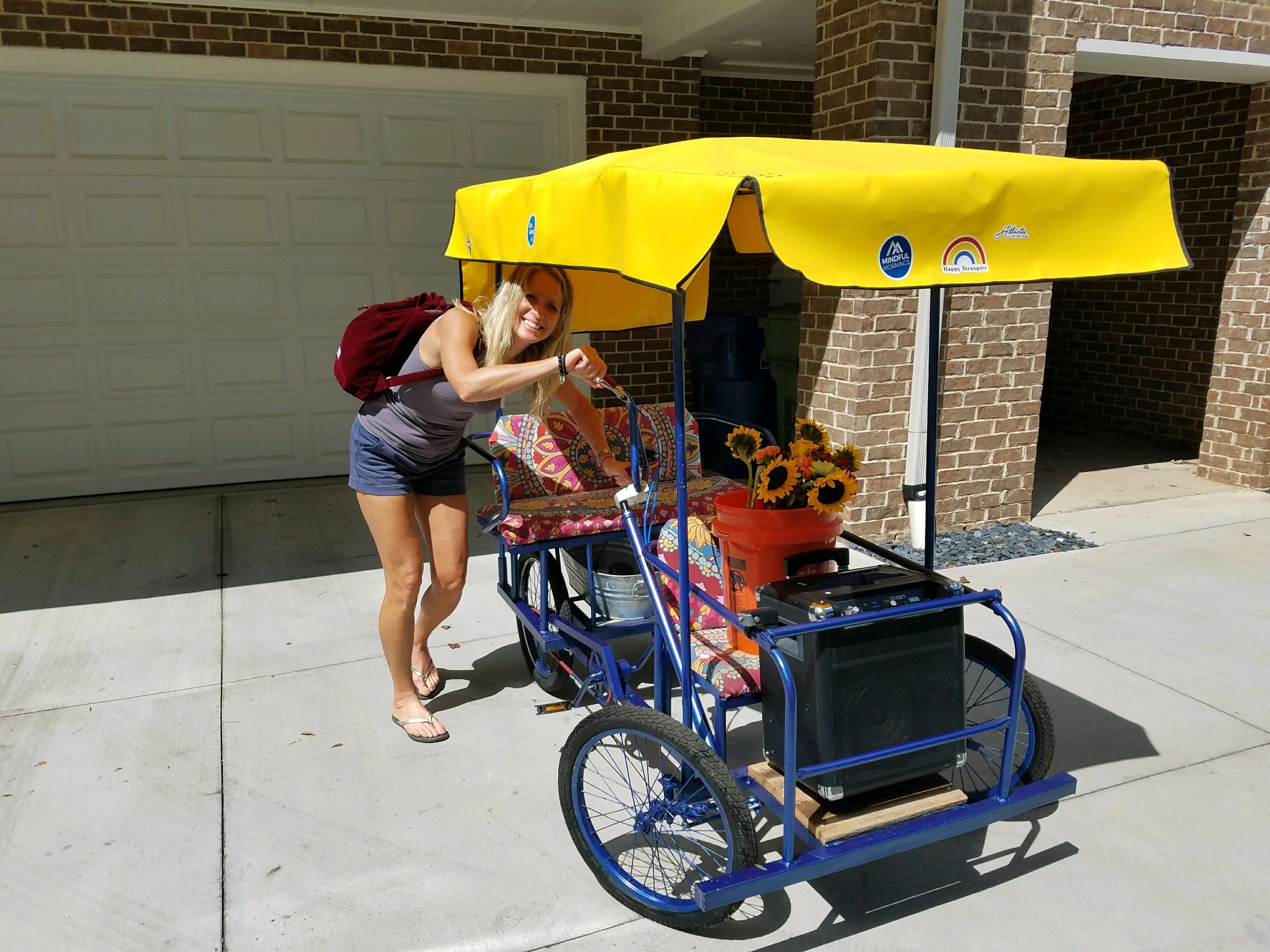 When November + Jenn serendipitously met, it became clear that The Universe had a plan for them.
Not only do these 2 women have a true love + affinity for community and bringing people together, they discovered they had met a twin flame in each other.
While getting to know each other, they discovered that they both had a passion for flowers. They talked about learning the language of flowers, flower essences and the quirky habit they both shared —handing out flowers to strangers on the street just because. They realized how much they both enjoyed spreading joy, light, love and smiles!
As they talked, Jenn shared her experience of living abroad in Shanghai, China for 5 years. While living there she had driven a Tuk Tuk (a 4 wheeled / 2 bench bicycle), which was her main mode of transportation. She talked about fond memories of piling her children and their friends on the Tuk Tuk to take them for ice cream, drive them to school and essentially watching them grow up on it over those 5 years.When she left China, she could not bear to leave it behind as it had become part of her soul.
So, when returning to the States, she brought it with her and 'The Love Buggy' was born.
Jenn's little Tuk Tuk evolved into a mobile Love Buggy where she and her friends can often be found driving down The Atlanta Beltline blasting love songs and handing out flowers.
And now, Jenn + November have teamed up to share their passion of spreading the love along with special invitations to join us for SIT classes — our mindful meditations at The Modern Apothecary.
The Modern Apothecary + Mindful Mornings Atlanta are coming your way in The Love Buggy @the_love_buggy_atl!
Be on the lookout and open to receiving the L.O.V.E. they will be spreading around in the ATL!